Specifications
Package
Warranty
Underwater Fishing Camera
    【7" Color LCD Monitor】: This underwater video fishing camera has a 7 inch large TFT color screen with 800*480 Pixels and removable sun-visor ideal for bright environments
    【1000TVL Camera】: The definition of the camera is up to 1000TV lines, which is clearer than the 700TVL camera.
    【With 12pcs Infrared Lights】: With 12pcs IR lights, fishes will be seen more clearly in the dark environment. Please note: the image will turn to black and white if you open the infrared light.
    【Equiped with Carrying Case】: The waterproof suitcase is mini and portable, Which is very convenient for you to carry anywhere you want.
    【Up to 10 Hours Working Time】: The continuous working time of the 4500 mAh rechargeable battery is able to last 10 hours after being fully charged. Note: at room temperature 20 degrees. 
This visual under water camera is professional and helpful for fishing activities.
When fishing from a boat or pier, lower the camera into the water and use the monitor to locate the fish and determine the type of species and size.
When ice-fishing, lower the cold resistant camera in the drilled hole and use the monitor to view fish as they approach. See how the fish react to different types of bait, lures, and movements.
Specifications:
Display specifications:
1. 7"" colour digital screen
2. Resolution: 800(H) X 480(V)
3. Voltage: DC 12V
4. OSD language: English, Chinese, etc. (10 languages available)
5. Adjustable up, down, left and right
6. 16:9 display
7. 4500M lithium battery, operating time: 10 hours (at room temperature of 20 degrees)
8. Operating temperature: -20°C to 60°C
9. Portable aluminium case

Camera specifications:
1. Camera size: 23mm x 120mm, head: 45mm
2. Camera material: high strength stainless steel 304
3. Camera lens material: Tempered glass
4. Sensor: 1/3 inch CMOS
5. Clarity: 1000 TVL
6. Camera viewing angle: 92°
7. fill light: 12 white lights
8. Adjustable white light
9. Special gold contact connector
10. Camera cable length: 15m
11. Camera operating current: 100MA
12. Camera voltage: DC 12V
13. Waterproof rating: IP68
14. Operating environment: underwater use; working temperature: -10°C-50°C


What's in the package?
1. Camera  with Wire wheel (wire length 15m) 1pc
2. aluminium case 1pc
3. monitor 7"  1pc
4. Charger 12V 1pc
5. Rechargeable battery (4500mAh,12V) 1pc
6. separate sunshade 1pc
7. instruction manual 1pc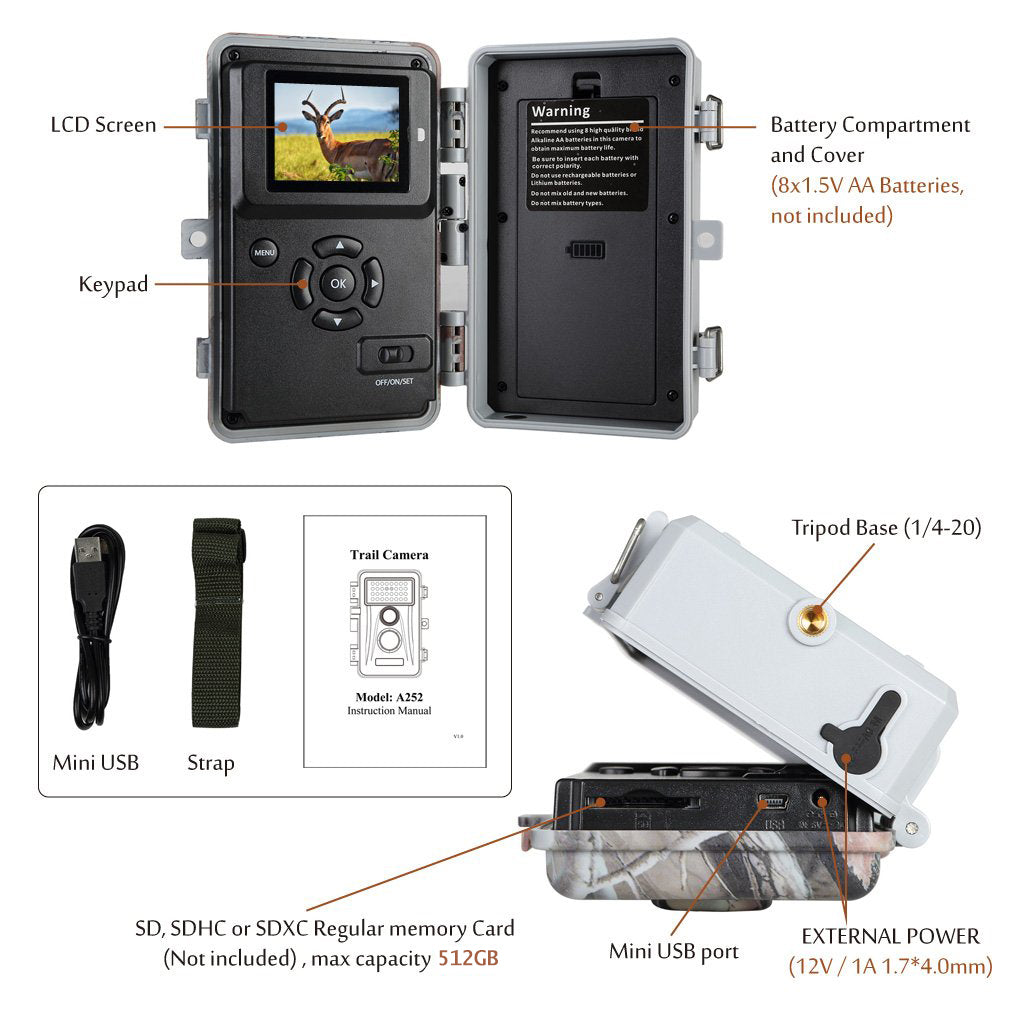 What's in the package?
You will find into our Blaze Video package, your: Underwater Fishing Camera, Portable Fish Finder with 7 inch 800*480 color Screen, 1000 TVL 15m cable camera, for Ice, Lake, Boat, Sea Fishing | CR110-7L
It come with:
Trail Camera(s)
User's Manual - in English
Mini USB cable(s)
Strap(s)
Not included:
More questions about our Camera, go to our Technical FAQs
---
When to use your Trail Cameras ?
Our Game Cameras can be used in many cases due to their highly flexible specifications: powered by battery, waterproof and best-in class camouflage. So feel free to use them everywhere and everytilme you need them.