Specifications
Package
Warranty
Features

Technical specifications
Underwater Fishing Camera

This visual fish finder is professional and helpful for fishing activities

Underwater Fishing Camera is professional and helpful fish finder to observe fish type, fish quantity, fish moving, enjoy the fishing and improve fishing skill. It can Watching the fish eating and swimming around your lures, which it bring a lot of funning for fishing.
    🐠✦【Professional Fishing Finder】This fish finder camera includes 2 parts: underwater camera and HD LCD monitor, it's a good partner for those who like sea fishing or ice fishing, this machine helps you to monitor the fish and to observe the underwater topographic, you can see clearly if the fish bite the hooks or not. 

    🐠✦【Multi-Function Lcd Monitor】Portable high resolution LCD fish monitor has sun visor and highlight LED backlight, can be used under the sun, HD 4.3in LCD display comes with multiple functions such as: 4x digital zoom, low battery power reminder, high fidelity video output functions, Control IR light on/off.

    🐠✦【Superior Underwater Camera Lens】The fishing camera underwater is equipped with Far Infrared LED Lights and the 1000TVL HD camera,can bring the realistic and delicate underwater world in your eyes. Cmos sensor. Low-level lighting is 0.001Lux in the dark water.


    🐠✦【Long and Strong Cable Wire】The cable wire of the video fishing camera with the length of 15m is very convenient for you to see clearly in the deep water, which is also waterproof, cold-resistant and anti-pressing to work well and you will not worry about the corrosion. The maximum bearing tension is 30 KG to allow you to fish bigger fishes.

    🐠✦【Our Commitment 】We are committed in pursuit of the products with superior quality, with FCC, CE, RoHS certification. If you receive any defective products, or any quality problems within one years, please feel free to contact us, we will Reply You within 24 Hours. We care about your feedback and try our best to make you feel our sincerity.


Helpful Functions
.
Digital zoom function
The camera supports up to 4x digital zoom, which can enlarge the image to four levels (1x, 2x, 3x, 4x), thus providing you with sharper, larger images.

Camera is equipped with fins that can be viewed horizontally or vertically underwater.


.

Nigh Lights Design

With 8 high brightness infrared LED lights. You can choose to turn on/off the infrared LED lights according to the underwater light environment. Even in the dark water, you can see the underwater world clearly.

Camera angle 130°, can give you an open view.
.

Rechargeable Battery

The video camera fish finding system features a powerful 3.7V / 2600mA battery that gives the underwater fishing camera a full run time of up to 6-7 hours when fully charged!

You can use the charge came with it to charge the camera.
.

Cable Material

Camera cables are made of black PU skin, which is made of yellow bullet-proof wires. Waterproof and anti-corrosion/cold/tensile.

Cables can withstand up to 30KG of weight. Cable length is 15m/49ft. Longer cables are available. If you require a longer cable, please contact us.

Huge detection range

IP68 Super Waterproof Camera

IP68 waterproof camera is suitable for long time use for ice fishing seawater and any other water.



For Ice Fishing, Kayak Fishing, Boat Fishing and Shore Fishing
🐠✦ICE FISHING
Cut a hole through the ice and put the fishing camera directly in the water. Enjoy the fishing gear
🐠✦KAYAK/BOAT/PIER/SHORE FISHING
The underwater camera is great addition to your tackle bucket for pier fishing. You'll have the advantage over all the other anglers who don't know where the fish are. Whether in freshwater or at the ocean.
This camera helps you to monitor the fish and to observe the underwater topographic, you can see clearly if the fish bite the hooks or not.

It is a good fishing accessory for boat, canoe, float tube, jet ski, kayak and so on.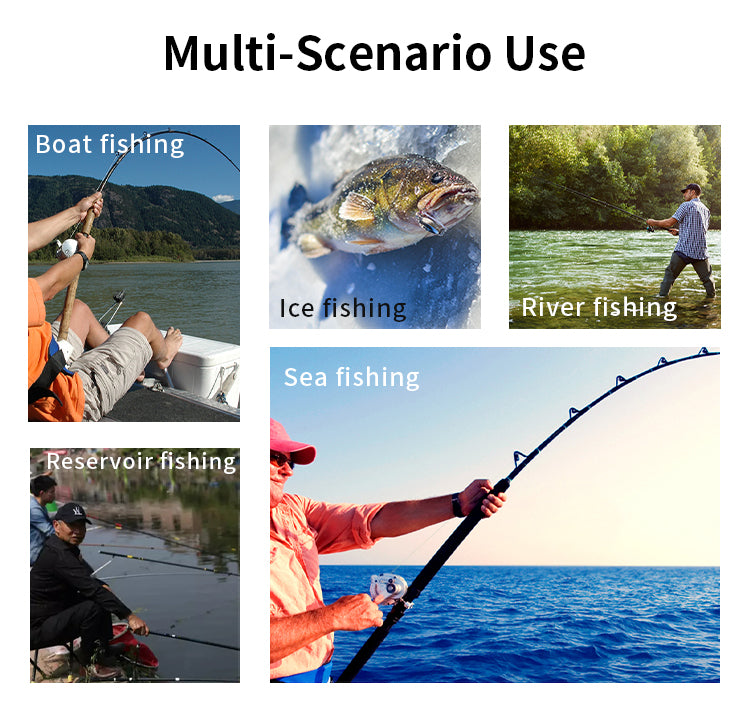 Specifications:
Display specifications:
1. 4.3" colour digital screen
2. Resolution: 960(H) X 240(V)
3. Voltage: DC 12V
4. OSD language: English, Chinese, etc. (4 languages selectable)
5. Adjustable up, down, left and right
6. 16:9 display
7. Built-in sunshade
8. Portable gift box, easy to carry
9. high brightness display
10. Battery: 2600MA lithium battery, working time: 6-7 hours (at room temperature of 20 degrees)  
11. Operating temperature: -20°C-60°C

Camera specifications:
1. Camera size: 35mm x 23mm
2. Camera material: high strength metal material
3. Camera lens material: tempered glass
4. Sensor: 1/3 inch CMOS
5. Clarity: 1000 lines
6. Camera angle: 130°.
7. fill light: 8 white lights (IR or white light optional)
8. Adjustable light
9. Camera cable length: 15m(/30/40/50m optional)
10. Camera operating current: 80MA      
11. Camera voltage: DC 12V
12. Operating environment: underwater use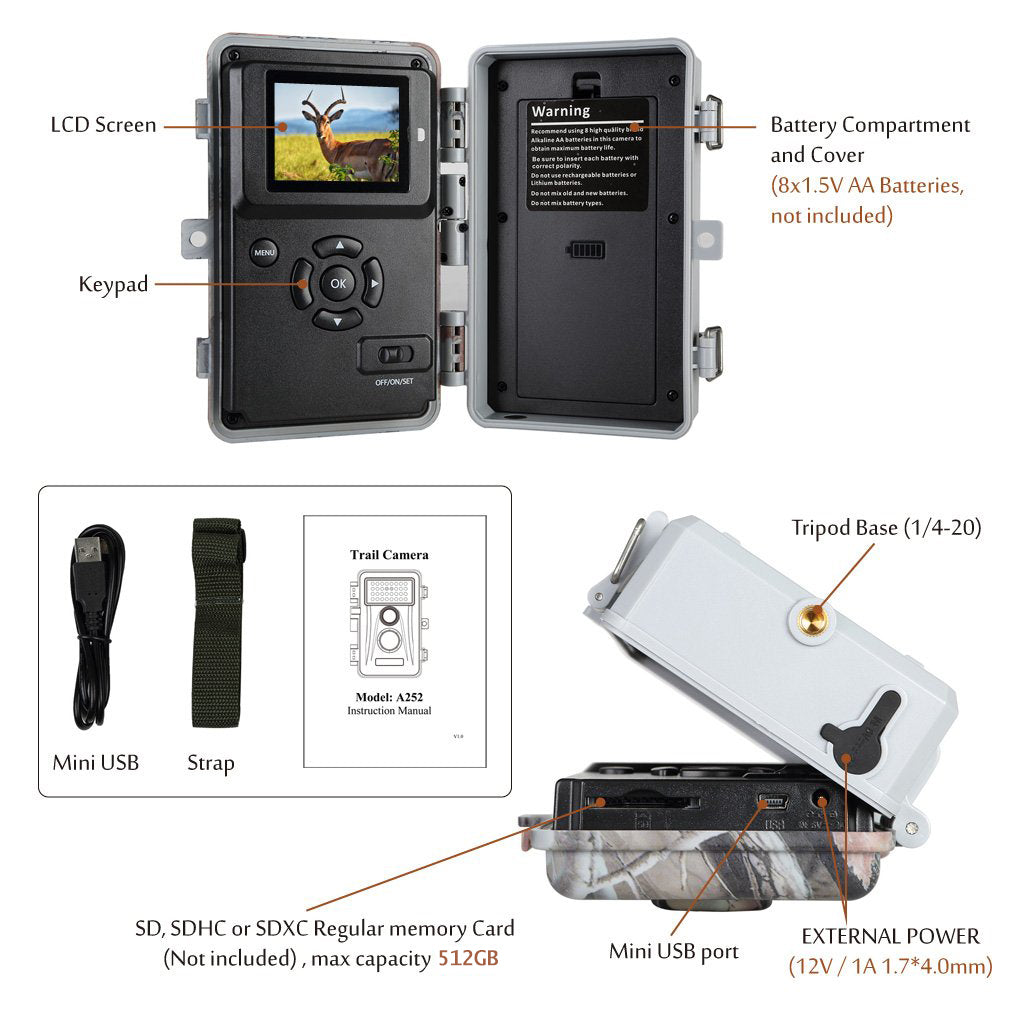 What's in the package?
You will find into our Blaze Video package, your: Underwater Fishing Camera, Portable Fish Finder with 4.3 Inch LCD Monitor and 15m 1000 TVL Infrared LED Waterproof Camerafor | CR110-7HBS15M
It come with:
Trail Camera(s)
User's Manual - in English
Mini USB cable(s)
Strap(s)
Not included:
More questions about our Camera, go to our Technical FAQs
---
When to use your Trail Cameras ?
Our Game Cameras can be used in many cases due to their highly flexible specifications: powered by battery, waterproof and best-in class camouflage. So feel free to use them everywhere and everytilme you need them.