Specifications
Package
Warranty
①SOAPUMP is an intelligent pump, which is compatible with almost all cleaning products' bottles. Refilling of liquid soap or shampoo will be no longer needed with it. Exquisite, easy to use, and easy to install, these are the reasons that make it the most ideal one for any home or business!

②The SOAPUMP comes with 6 sizes of bases: Φ24mm / Φ28mm / Φ30mm / Φ32mm / Φ40mm / Φ42mm. With the bases, the soapump can be adapted to almost any size of cleaning products's bottles.

③Whatever your preference, our SOAPUMP dispenser has you covered. Choose between three different nozzles(liquid, spray, foam)  to cover all of your daily shampoo, foaming soap and alcohol spray needs.

④The SOAPUMP releases the exact amount of liquid you need with no waste. Its three adjustable volumes and precision design allow you to choose how much liquid you want to use.

⑤The SOAPUMP can achieve a liquid dispensing speed of 0.25s, which makes bathing more convenient. The internal structure design makes the pump flow more smoothly without clogging, so you don't have to worry about clogging or getting stuck.



The SOAPUMP is equipped with its own developed motor so that it has enough power to extract thick liquids such as shampoo, shower gel, and disinfectant. You No longer dilution step required! The soapump dispenser makes dispensing of liquid soaps, body lotions or shower gels very easy and comfortable.

Refilling and making a mess? No longer the case for Soapump! All you have to do is simply installing it onto any bottles of your favorite soap or sanitizer, and it is ready to go. How convenient is that!

Long press the button for 3 seconds to turn on/off. Turn on once, keep on standby, and don't worry about touching the dispenser in order to activate it. It means there's less chance of accidents like spilling or contamination from germs on your fingers.

When you use SOAPUMP, the LED indicator light will work so that you can know the status of the product in use and make it more convenient to use at night.

SOAPUMP can run for a year on just 2 AAA alkaline batteries. In the case of gear that can be used:
· spray nozzle about 7000 times
· liquid nozzle about 10000 times
· foam nozzle about 14,000 times
(Similar items on the market can be used about 3000 to 5000 times), energy conservation and environmental protection!
The SOAPUMP dispenser is a great addition to any bathroom, kitchen, kindergarten, office or school. It's great for offices, schools and hospitals too! Use it for personal use or give one as a gift.
SOAPUMP is waterproof, so you don't have to worry about damage from daily use or during pump cleaning!


Specifications

Item Name: SOAPUMP Dispenser
Model: Liquid, Spray, Foam
Color: Pearl White
Item Size: 111mm*52mm*62mm
Sensing Distance: 60mm(2.4 inch)
Power By: 2*AAA Alkaline Batteries
Batteries Included: No
Suggested Occasions: Bathroom, Kitchen, Living room, Outdoors
Waterproof: Yes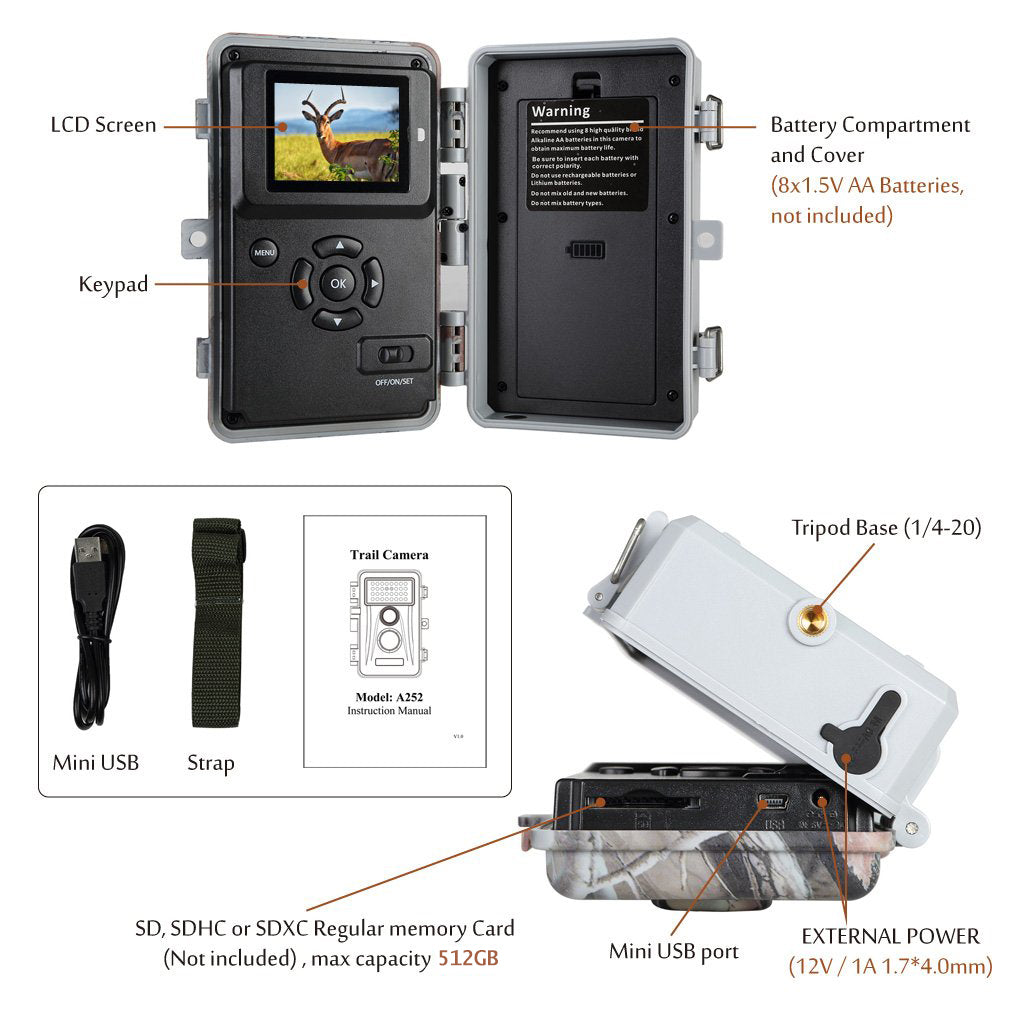 What's in the package?
You will find into our Blaze Video package, your: SOAPUMP Intelligent Soap Dispenser, Easy to install, Anti-sunshine interference, Fast&Smooth dispensing, Three adjustable volumes, Three different nozzles Suitable for Liquid, Foam and Spray.
It come with:
Trail Camera(s)
User's Manual - in English
Mini USB cable(s)
Strap(s)
Not included:
More questions about our Camera, go to our Technical FAQs
---
When to use your Trail Cameras ?
Our Game Cameras can be used in many cases due to their highly flexible specifications: powered by battery, waterproof and best-in class camouflage. So feel free to use them everywhere and everytilme you need them.