Specifications
Package
Warranty & manual
Secure your camera trap against theft
Discover your hunting camera box, photographic trap, nature camera for your Blaze Video device. Your outdoor camera is not afraid of bad weather, however nature camera theft is quite common.
A resistant metal cage to protect your nature camera
Opt for this security box for your Blaze Video camera, in metal, treated to resist, it will be your perfect ally to protect your camera from the most ill-intentioned.
Secure your camera outdoors with a padlock locking system
Secure your camera with a padlock that you can add to the lower hole that includes the 2 sides of the housing. Its openwork structure on the back allows you to keep your attachment system operational without any problem.
A discreet and easy-to-use case
With its all-terrain camouflage, this protective box will be very easy to install, maintain and use thanks to its integrated hinges to allow you to easily open your camera and view the videos and pictures you take.
Compatibility with our best-selling outdoor camera models
This protective case or metal cage for hunting camera with camouflage BVCASEX1 is compatible with:
    Regular cameras - A252 Series

    Advanced Cameras - A262 / A261 Series

    Pro cameras - A323 Series

    Garde Pro: A3 A3S

    Meidase: S3, S3 pro, P40 P50
Attention:
1. ??Not compatible with the A280/A280W/A350/A350W/W600 cameras

2. To prevent the cover from being opened, be sure to lock the small holes in the panel.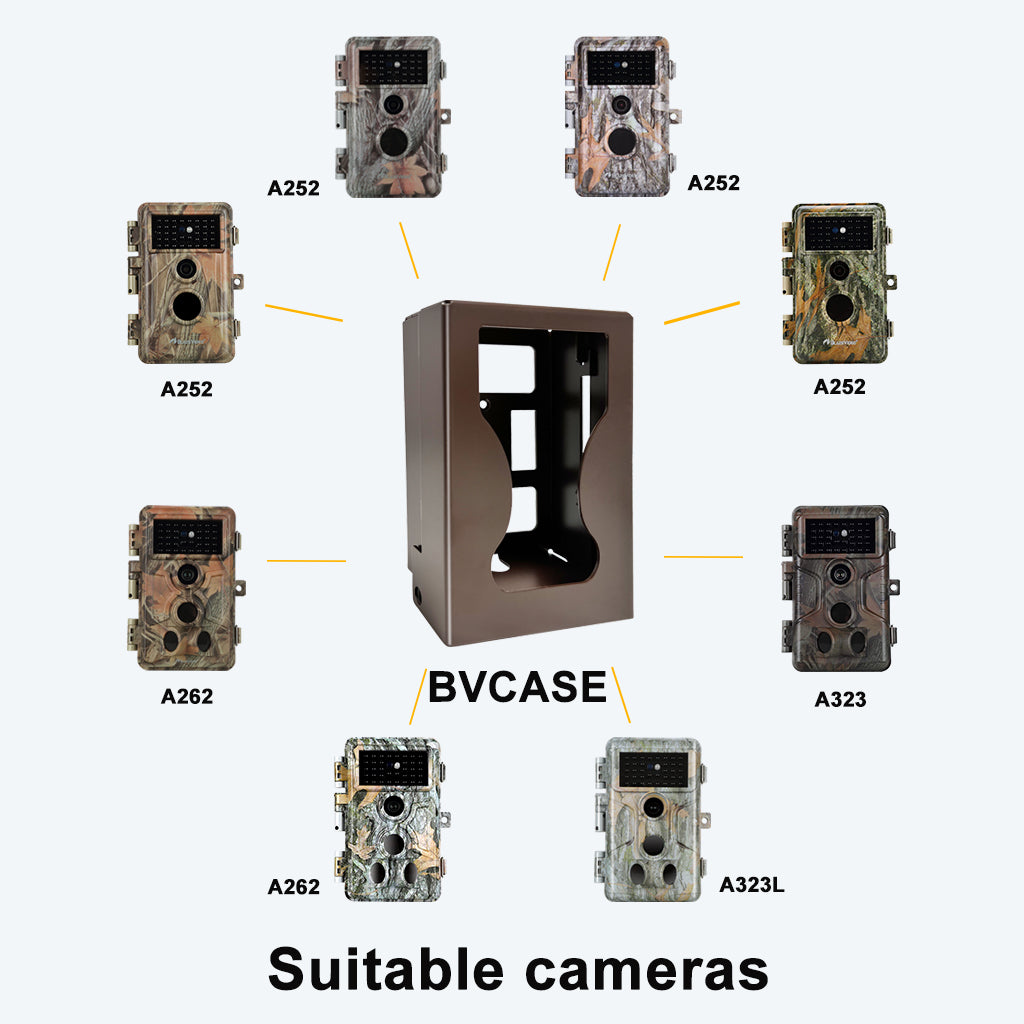 This protective case or metal cage for hunting camera with camouflage BVBOX-1 is compatible with:
    Premium cameras - A280

    Premium cameras - A350

    WIFI cameras - A280W

    WIFI cameras - A350W

    WIFI cameras - W600

    GardePro Series: E5 E5S E6 E7 E8 P90

    Meidase Series: P60 P80 P90 S800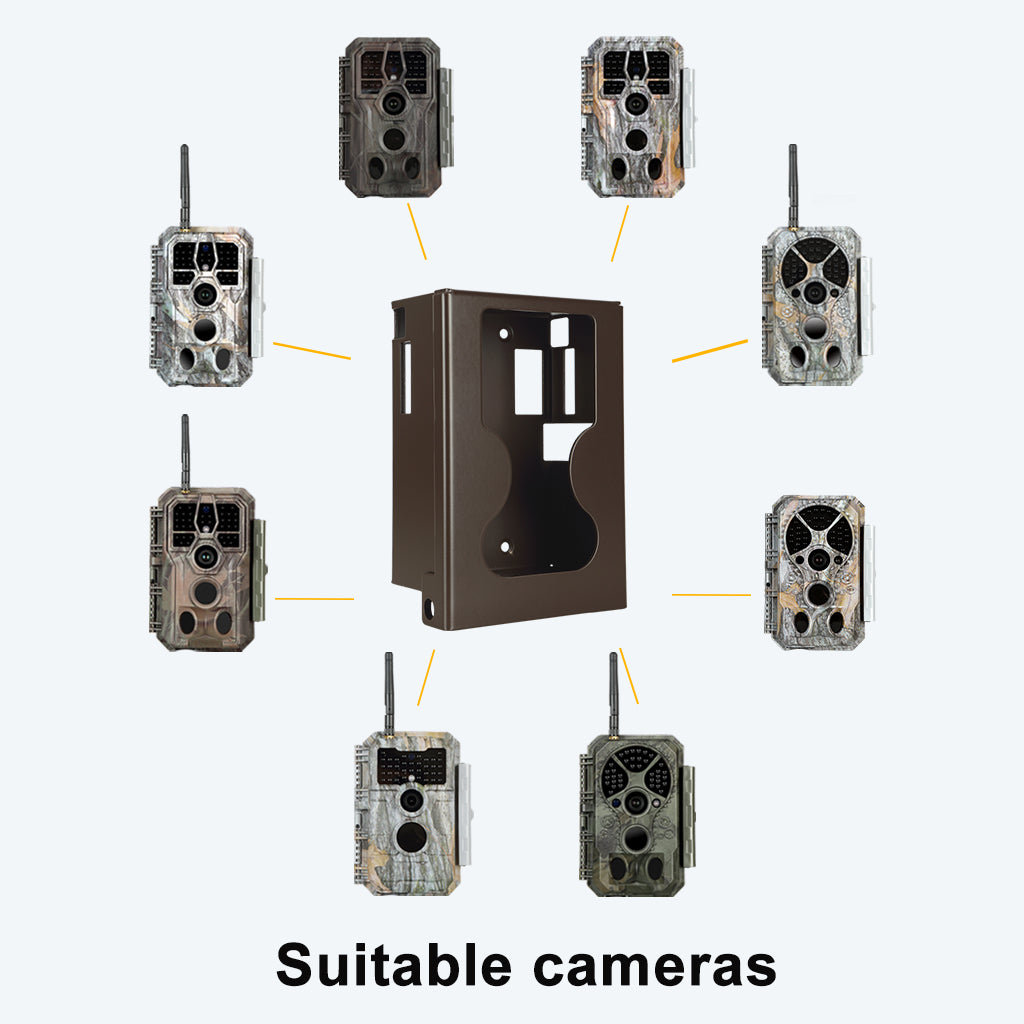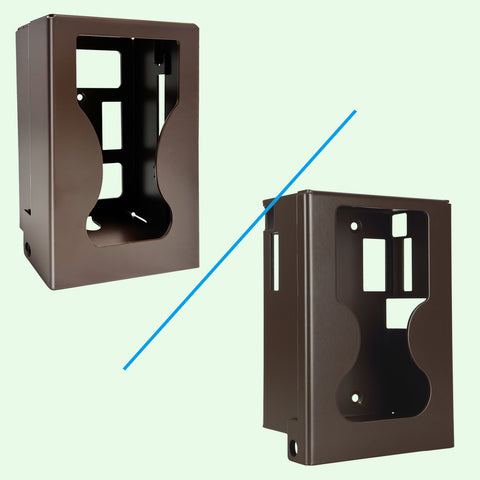 What's in the package?
You will find into our BlazeVideo package, your: Game Trail Camera Camouflage Safe Security Case & Protective Box Metal
It come with:
Game Trail Camera Camouflage Safe Security Case & Protective Box Metal
Not included:
Battery
SD Card
Smartphone
More questions about our Camera, go to our Technical FAQs
---
When to use your Trail Cameras ?
Our Game Cameras can be used in many cases due to their highly flexible specifications: powered by battery, waterproof and best-in class camouflage. So feel free to use them everywhere and everytilme you need them.
Your user Manual in English
Click on the following link to get a copy of your manual: Download instruction manual
Your 1-year warranty
One Year Warranty
We take great pride in our products. We always stand behind our promises. We provide a leading warranty term and service. Buying our product, you are covered under a limited warranty.
We guarantee our products to be free of defects in materials and workmanship for a limited warranty of the original purchase date. This warranty does not cover consumer caused damages such as misuse, abuse, improper handling or installation, or repairs attempted by someone other than our authorized technicians.
We will, at our option during the warranty period, repair your camera or replace it with the same or comparable model free of charge. This warranty only extends to the original retail buyer from our authorized dealer. Purchase receipt or other proof of the date of the original purchase is required to receive warranty benefits. The warranty on any replacement product provided under the original warranty shall be for the remaining portion of the warranty period applicable to the original product.
This warranty extends solely to failures due to defects in materials or workmanship under normal use. It does not cover normal wear of the product.
If you need to return a product under this warranty, please please feel free to contact us, we are always here to support you.