Specifications
Package
Warranty
Intelligent 4 resettable combination chain locks, no key required, and basic security protection against theft proof.
The bicycle lock is made of braided steel wire and has a vinyl coating (PVC) that extends the service life to help preventing scratches or high temperature corrosion.
Used for bicycles, motorcycles or trail cameras, etc. You can lock your bicycle on a tree or railing, which can be used to fix things you want to fix, and it can also be an outdoor trail camera for taking pictures.
The operation is simple. Set your favorite password through simple steps. The starting password is 0000. After setting, you can record it on somewhere to avoid forgetting the password.
The bicycle lock cable is 2 m long and 0.9cm in diameter.
Product description
| | |
| --- | --- |
| color | black |
| style | simple |
| form | circular (complete) |
| material type | stainless steel |
| number of elements | 1 |
| number of pieces | 1 |
| Seasons | Available in all seasons |
| Features | Stable combination of adjustable body |
| Components included | Cable lock |
| Product dimensions (L x W x H) | 200 x 22 x 0.5 cm; 254 g |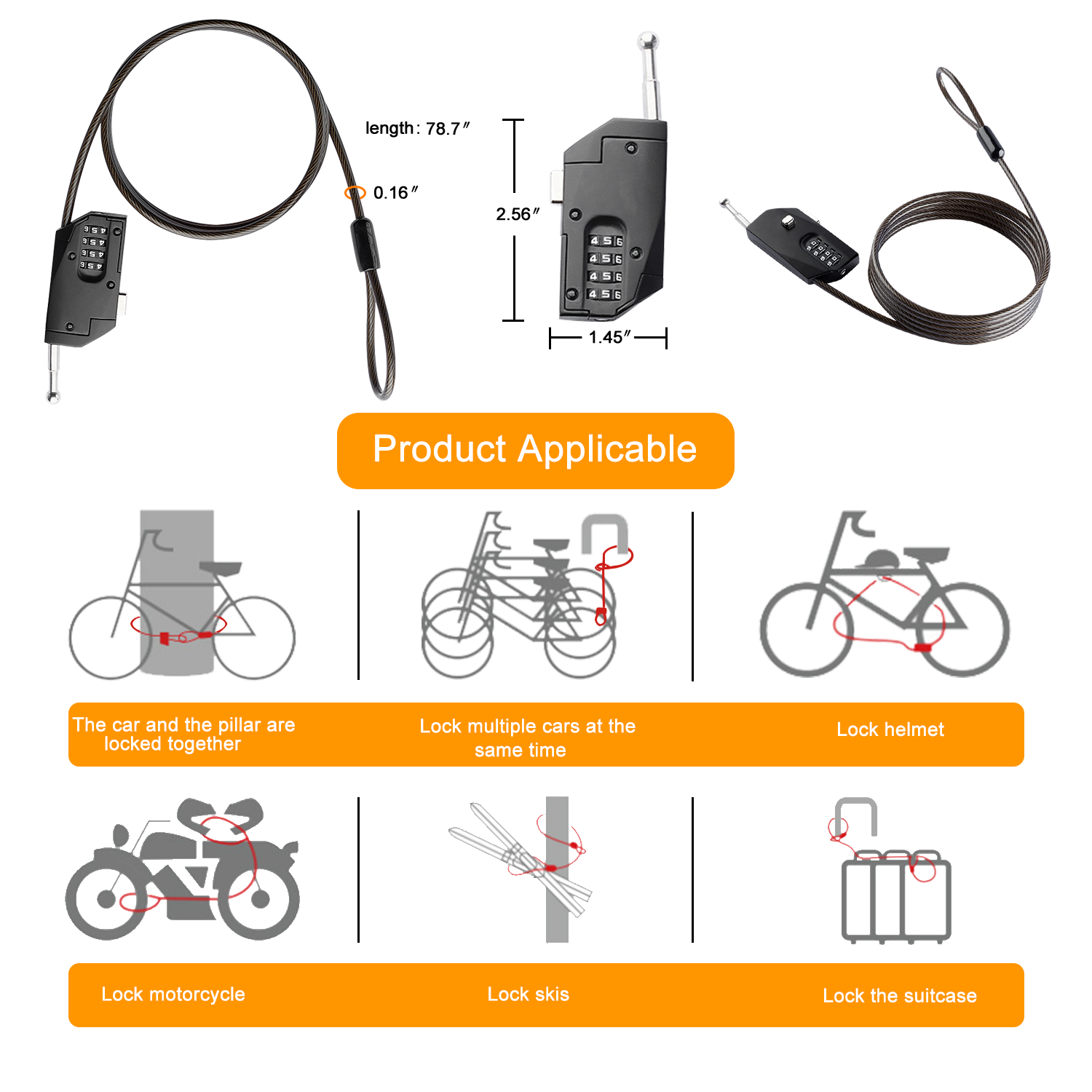 What's in the package?
You will find into our Blaze Video package, your: Game Trail Camera Lock Security Lock Password Cable Chain Lock, Metal Protective Lock for Bike Wildlife Hunting Cameras Indoor Outdoor
It come with:
Trail Camera(s)
Instructions Manual - in English
Mini USB cable
Strap(s)
Not included:
More questions about our Camera, go to our Technical FAQs
---
When to use your Trail Cameras ?
Our Game Cameras can be used in many cases due to their highly flexible specifications: powered by battery, waterproof and best-in class camouflage. So feel free to use them everywhere and everytilme you need them.