Specifications
Package
Warranty
Camera Features
Technical Specs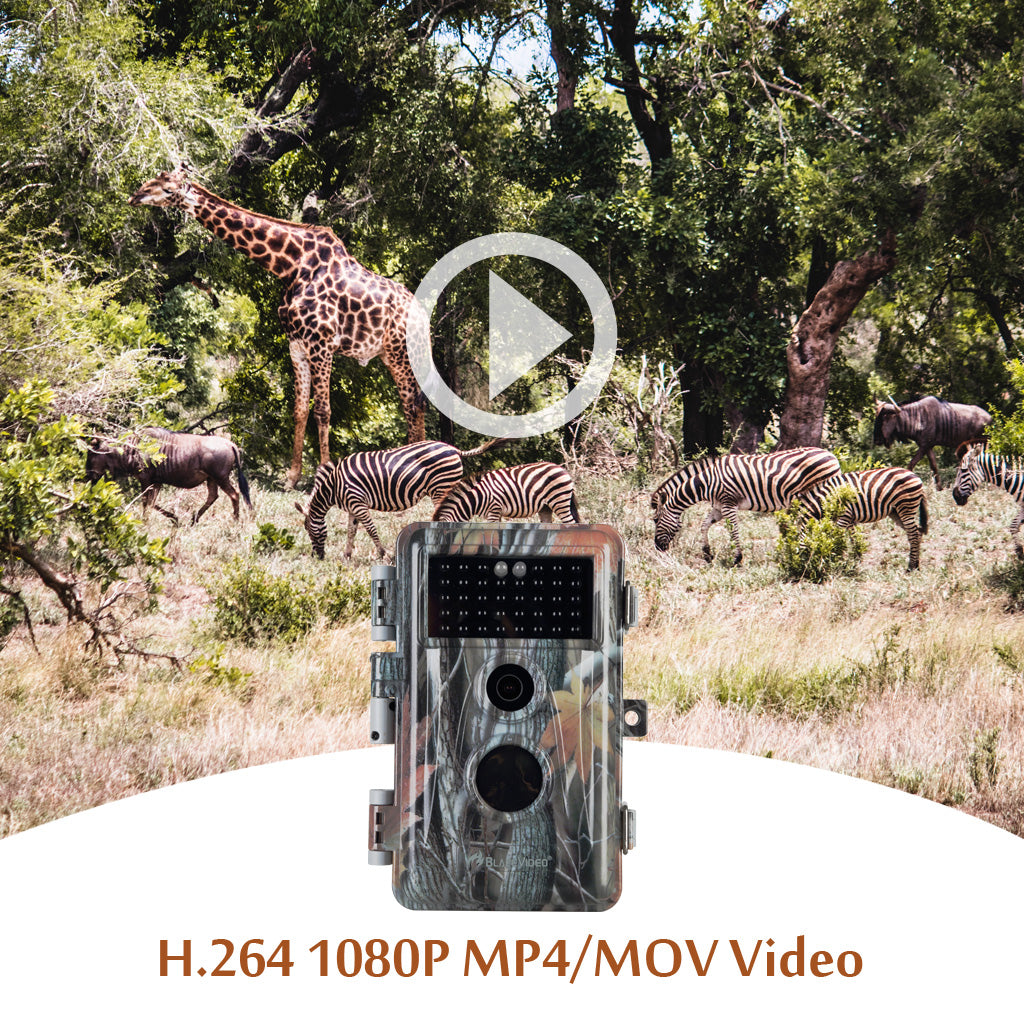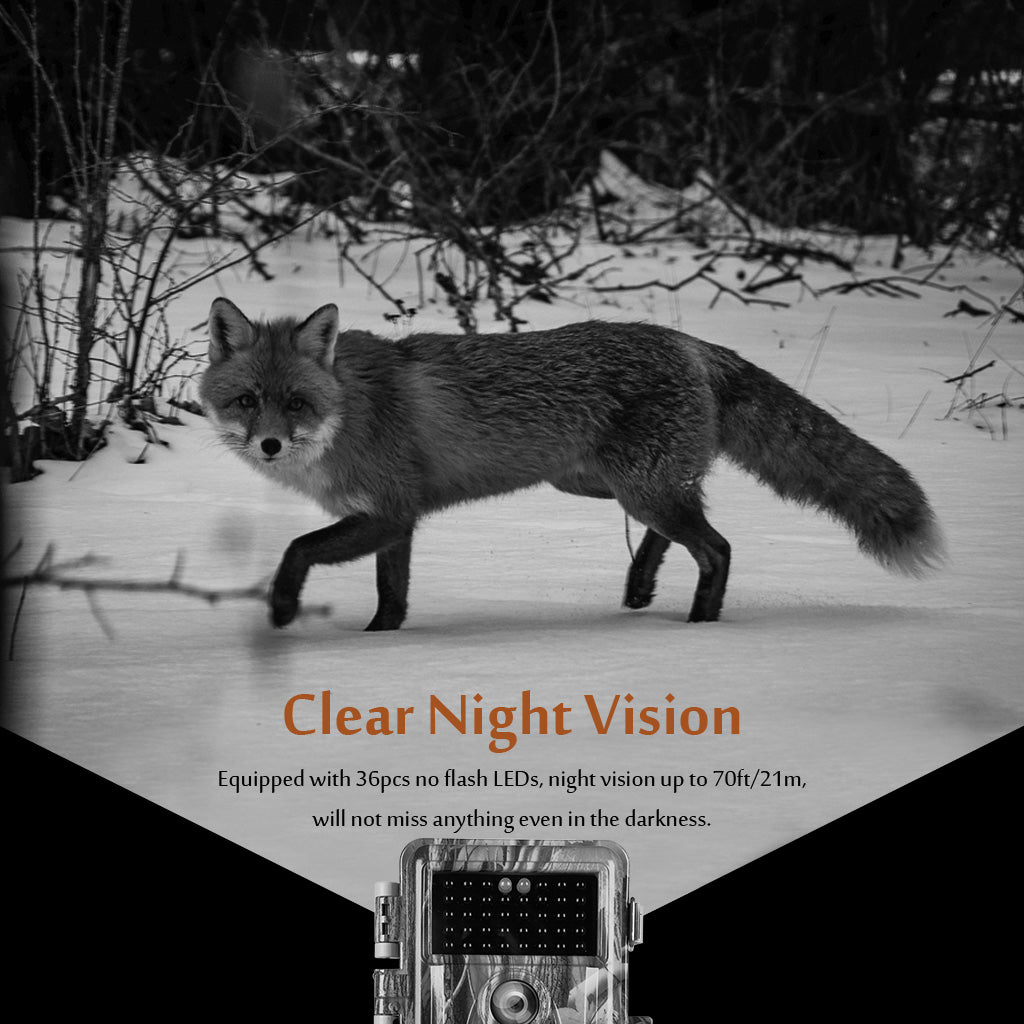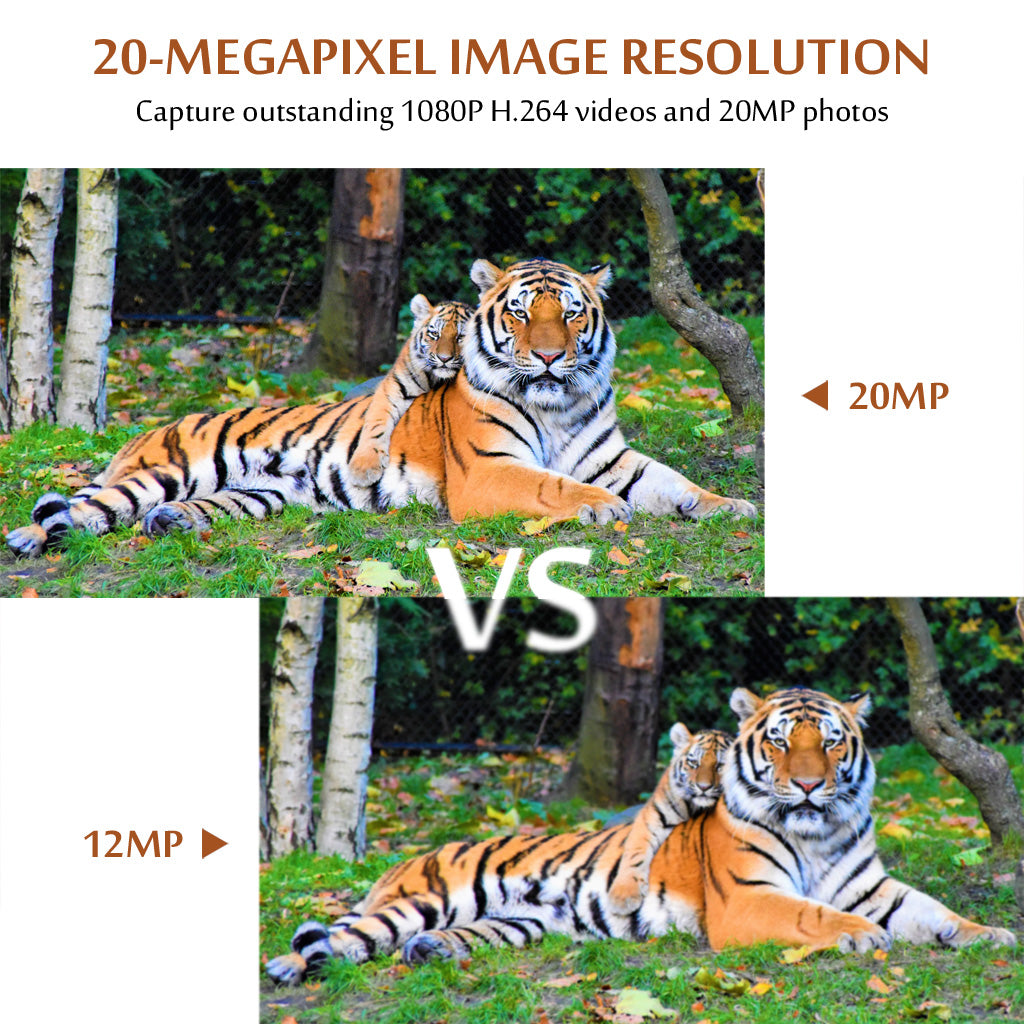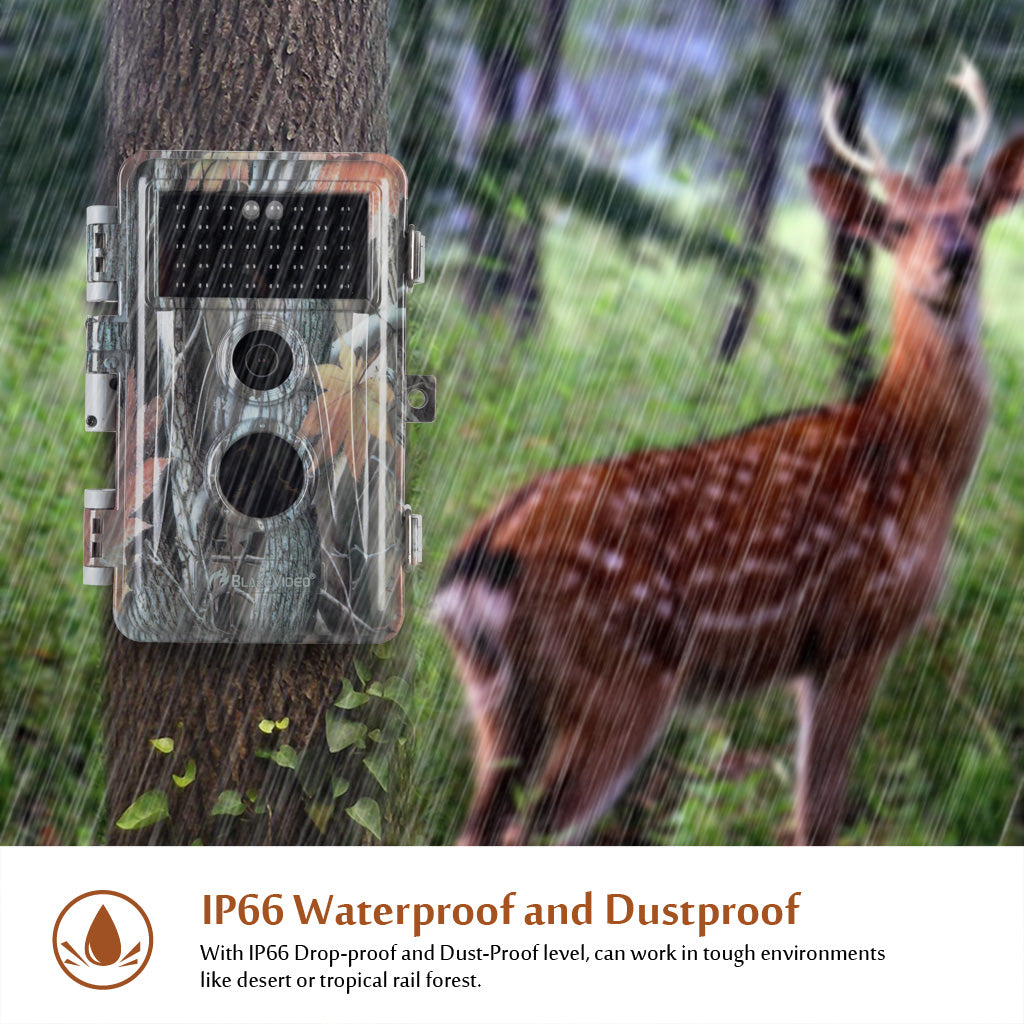 .img
Specifications:
(Note: Night videos are limited to a maximum of 30 seconds to conserve the batteries. If set video length higher than 30 seconds, e.g. 60 seconds, the max recording length at night keeps 30 seconds.)
Working Mode
Motion detection or Time Lapse
Max. Pixel Size
20MP
Lens
F=2.0, FOV=105°, Auto IR-Cut
IR Flash
70ft
LCD Screen
2.31" Color screen
Keypad
6 Keys, 1 Power switch
Memory
SD, SDHC or SDXC Regular memory card (Not included), max capacity 128GB
Picture Resolution
20MP, 16MP, 8MP, 4MP, 2MP
Video Resolution
1080P@30fps,720P@30fps
Video Format
MP4/MOV
Video Compression
H.264
PIR Sensitivity
High/Normal/Low
PIR Sensing Distance
70ft (Below 77°F/25°C)
PIR Sensing Angle
70°
Trigger Time
Approx. 0.5 second
Trigger Interval
0sec.-60min, Programmable
Shooting Numbers
1~5
Video Length
3sec ~ 5min., Programmable
(Note: Max 30 seconds at night time to conserve batteries lifetime)
Info Strip
On /Off
Operation Hours
On /Off, Specific working period of time
Password
4-Digit Code
Camera Name
4-Character (A-Z, 0-9)
Time Lapse
1 Sec. ~ 24 Hour
Power Supply
8x1.5V AA Batteries Or External 12V Power Supply with 4.0x1.7mm plug (Not included)
Stand-by Time
8 Months
Auto Stand-by
Auto Stand-by (Surveillance mode) in 5 minutes while no operation in SET mode
Low Battery Alarm
8V - Low Battery (Batteries die)
9V - Night vision is unavailable in low voltage(Almost die)
Interface
Mini-USB, Regular SD card holder, External Power (DC 12V/1A, Plug 4.0x1.7mm)
Mounting
 Strap, Tripod Base (1/4-20)
Waterproof
IP66
Operation Temperature
-4~140°F/-20~60°C
Operation Humidity
5% ~ 95%
Certificate
FCC & CE & RoHS
Product Dimensions
6.1 x 4.4 x 3.0 inches
For more details, please click to download the camera manual.
NOTE:
The power time depends on the quality of batteries. If you take or record many pictures/videos in a short time, the power will fall out quickly.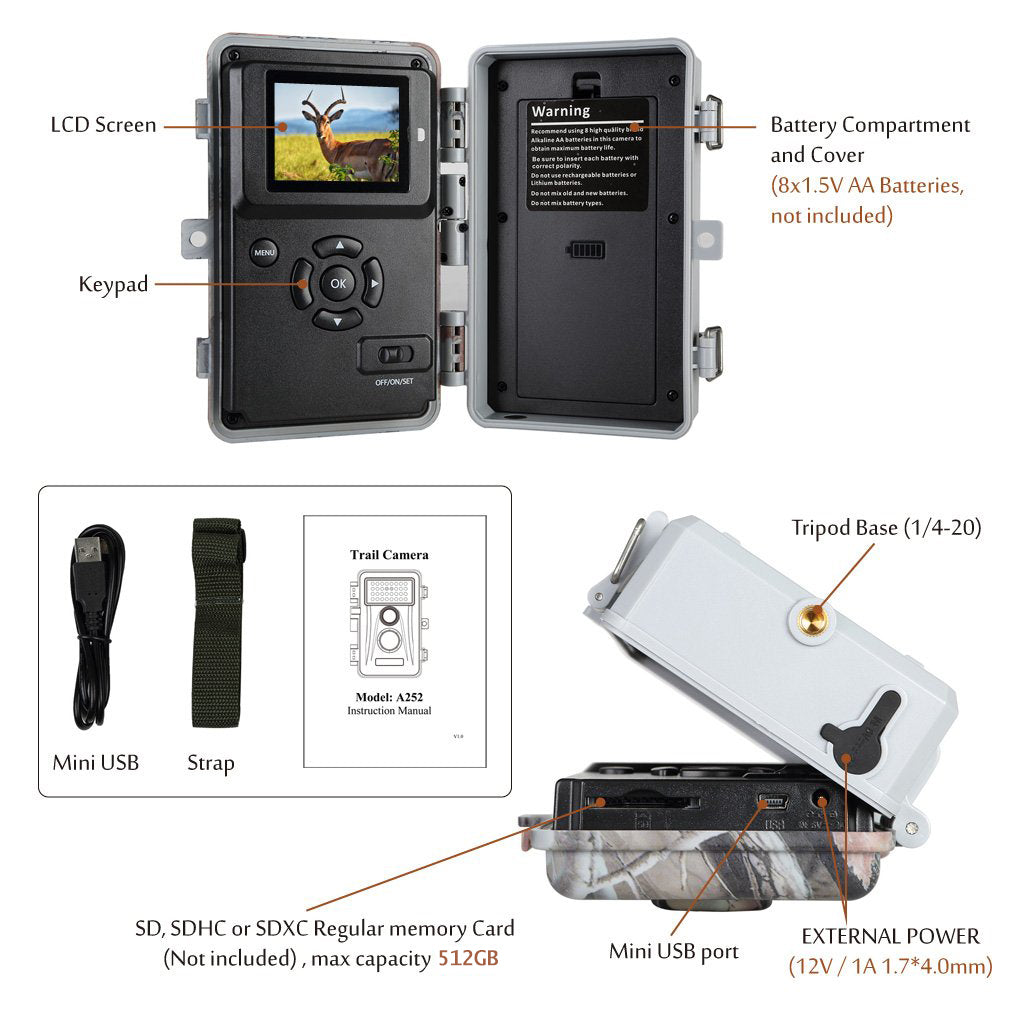 What's in the package?
You will find into our Blaze Video package, your: 2-Pack Trail Wildlife & Field Tree Animal Cameras 24MP 1296P H.264 Video Waterproof No Glow Infrared Motion Activated with Night Vision Time Lapse
It come with:
x2 Regular Rain Forest Trail Camera(s)
x2 User's Manual - in English
x2 Mini USB cable(s)
x2 Strap(s)
Not included:
More questions about our Camera, go to our Technical FAQs
---
When to use your Trail Cameras ?
Our Game Cameras can be used in many cases due to their highly flexible specifications: powered by battery, waterproof and best-in class camouflage. So feel free to use them everywhere and everytilme you need them.