Specifications
Package
Warranty
*Important note:
The camera does NOT include a SIM card.
So you'd better have a SIM card first and then you can use your own data plan for data transferring, otherwise you can use it as a standard trail camera.
Description: 
Record high quality 32MP photo and full HD 1296P Video by day or night, easy to set up, connect to the smart phone by cellular, use dedicated App for preview, image transmission and settings, send photos to phone.
Available networks and countries:
Element
Description
Cellular
LTE,  works with Optus, Telstra, Virgin Mobile and Vodafone (in Australia) 

Note that sometimes the APN need to be configured. Please consult your network service provider for the APN.

Innovative Cellular Transfer: The A390G trail cam takes a reliable 4G LTE cellular module and high-gain antenna, works with Hutchison-Whampoa, BT Group, Telefonica and Vodafone (in the UK) for better coverage. The cam can directly send pictures to your mobile phone from field according to the schedule you programmed.
For Your Quick Start:

 

Operates with a dedicated free App. A free sim card is included. No activation fee. Operates on 8 AA batteries (not included) and a standard-size SDHC/SDXC card up to 512GB (

32 GB SD card is included

).

Easy-to-Use App Control:

 

The App allows you quickly set up your camera and activate, check camera status, manage your field images. Valuable Add-ons - You can request HD images or videos on demand (order plan separately in the App).

Superior Night Vision: Features 940nm no glow infrared technology makes your camera more concealed, encompasses adaptive illumination technology to avoid overexposure or over-dimmed, delivers better night vision (up to 100ft).
More Excellent Features:

 

Built-in 2.4" color display, fast 0.1 trigger speed and 0.5s recovery time, IP66 waterproof, compact housing design, intuitive operation.
 Blazevideo A390G 4G LTE Cellular Trail Camera (2022)
Works with AT&T and T-Mobile cellular (SIM card included, can only work in the UK)
Easy to Use Phone App
Quick Activation and Program Your Camera by App
Offers Affordable and Flexible Data Plan
Sends Pictures to Cell Phone and Requests HD Photos or Videos
Captures Crystal Clear 32MP Still Image
Records 1296P or 1080P HD Video with Sound
No Glow Night Vision up to 100ft
Warm Tips:

1. Please format the memory card before use trail camera. We suggest SDHC card with class 10 or above for a better record and playback review.
2. Please remove the protective foil from the camera lens for not affecting the camera effect.
3. Please adjust a longer interval times if you do not want too many motion pictures.
"https://youtu.be/5PrfwOekTu8?list=PLPo3BDFwfAxpQ_eQ7HLhEw_onqp0fsjIi"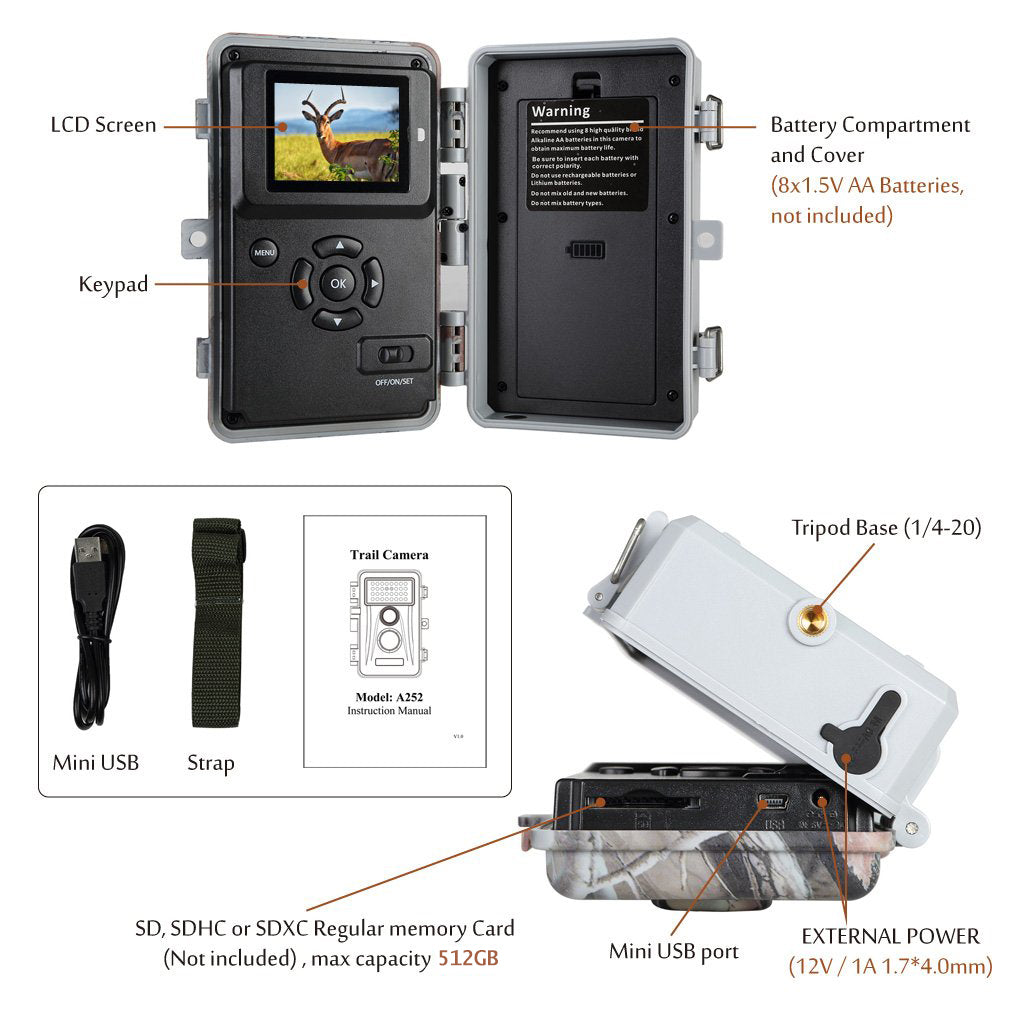 What's in the package?
You will find into our Blaze Video package, your: 2-Pack 4G LTE Cellular Wildlife Trail Camera 32MP 1296P Night Vision Motion Activated No Glow Waterproof for Garden Security Outdoor Trap Animal Camera | 390GA Red
It come with:
x2 Cellular Brown Trail Camera(s)
x2 User's Manual - in English
x2 Mini USB cable(s)
x2 Strap(s)
Not included:
More questions about our Camera, go to our Technical FAQs
---
When to use your Trail Cameras ?
Our Game Cameras can be used in many cases due to their highly flexible specifications: powered by battery, waterproof and best-in class camouflage. So feel free to use them everywhere and everytilme you need them.