Specifications
Package
Warranty
Airbrush Kit, High Pressure Rechargeable Cordless Air Compressor Airbrush Pen, Multi-Purpose Precision Dual-Action Airbrush Gun airbrush halloween

This cordless airbrush is really easy to use for beauty and moisturizing. The water sprays evenly and gives moisture to the pores of the facial skin. Just spray it to make the skin full of vitality.


Product Details

Ⅰ:High quality stainless steel
Our airbrush gun is made of high quality stainless steel, anti-rust and easy to clean.

Ⅱ:Dual-Action Function
This airbrush comes with a double action trigger. We build an air valve in our airbrush. You can control paint and airflow separately with the trigger. When press the trigger down, compressor will turn on automatically and airflow will come out, then paint will come out when pull the trigger back. It will stop working automatically after releasing the trigger. This will make you can have a 30% longer working time compared with common rechargeable airbrush kit..

Ⅲ:How To Clean The Airbrush Gun
①Add several drops of water or cleaning solution into airbrush cup, the solution will dissolve the leftover paint.

②With the power on, place your finger over the airbrush nozzle , press and pull the trigger back to block airflow until small bubbles appear in the water metal cup, repeated washing and clears the airbrush inside.

③With the air compressor on, blow out the remaining liquid onto a tissue or in your bathroom sink.

Ⅳ:Notice
-Please test airbrush kit with clear water before using pigment or paint to make sure that the airbrush is not clogged to spray normally.

-When using acrylic paint, please use water instead of thinner to thin the acrylic paints.

-Please clean it after use, otherwise the liquid will solidify and block the nozzle.

-If the airbrush is not able to spray liquid, it may also be that the fluid control knob is too tight, please adjust the tail screw. Or it may be that the nozzle is blocked. Please remove and clean the nozzle. Please refill cup with alcohol or cleaning solvent, then block the needle cover with a finger and spray. The air flows backward into nozzle to clean the paints remained the airbrush. Please repeat it 2-3 times.

-If the paint and liquid are too thick or encounter the problem of not being sprayed, suggest properly dilute it with water or thinner or replace with a suitable nozzle.

-If the airbrush is not able to spray liquid, maybe the fluid control knob is too tight, please adjust the tail screw. Usually the tail screw does not need to be adjusted frequently.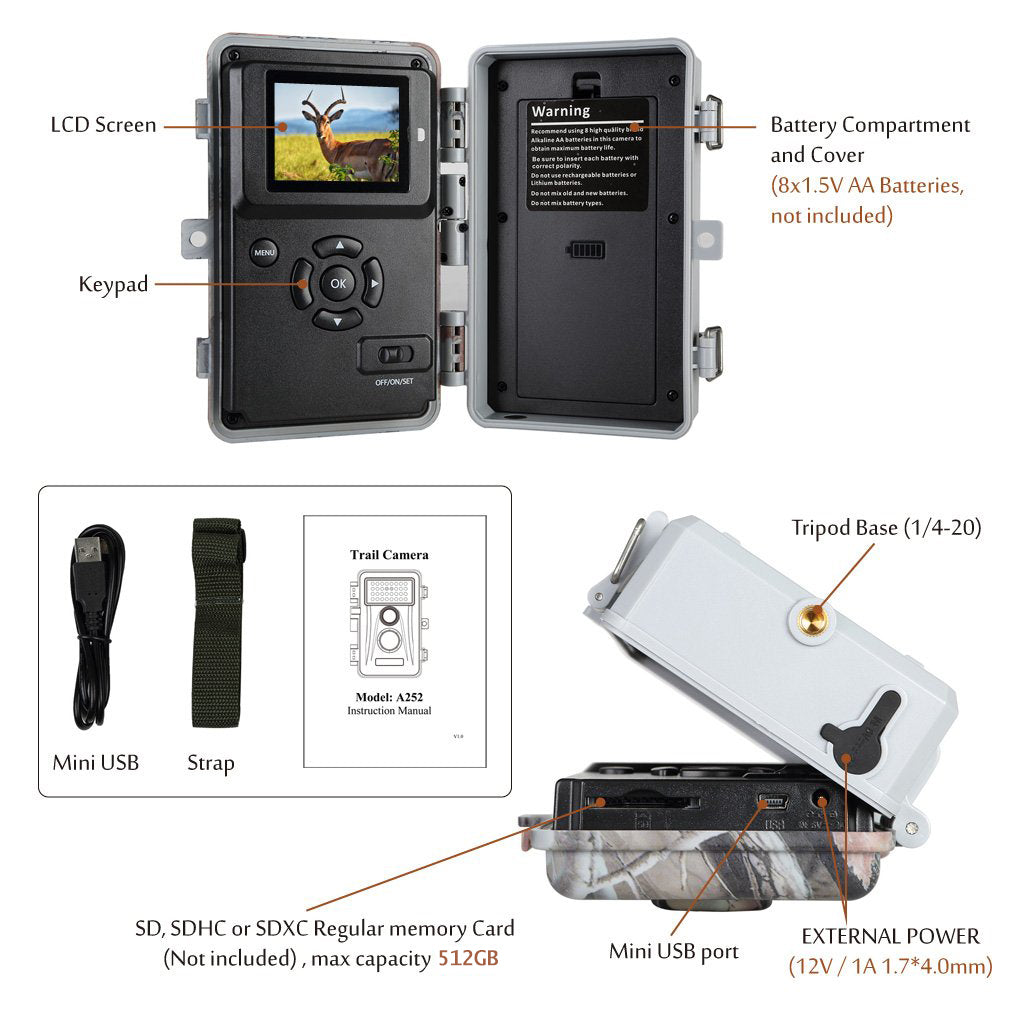 What's in the package?
You will find into our Blaze Video package, your: Cordless Airbrush Kit with Compressor, 30PSI Handheld Mini Air Brush Gun Set, Portable High Pressure Air Brushes for Draw, Make up, Model kit, Graffiti
It come with:
Trail Camera(s)
User's Manual - in English
Mini USB cable(s)
Strap(s)
Not included:
More questions about our Camera, go to our Technical FAQs
---
When to use your Trail Cameras ?
Our Game Cameras can be used in many cases due to their highly flexible specifications: powered by battery, waterproof and best-in class camouflage. So feel free to use them everywhere and everytilme you need them.